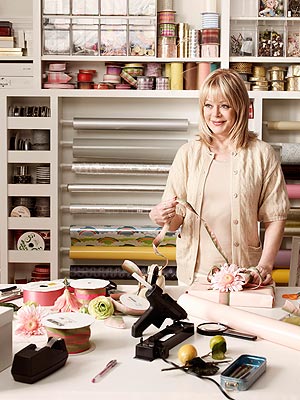 Wrapping gifts can mean serious business for some people. Have you seen Candy Spellings gift wrapping ROOM (above image)? More and more people are converting spare bedrooms into Wrapping Rooms. What a fabulous place to spend a few hours wrapping gifts and organizing all your supplies!
With the holiday season quickly approaching, now's the perfect time to get your gift wrapping supplies organized and simplified.
Tissue paper can be used for so many crafts, art and home decor projects. It also adds a special touch to any gift.
You may be frustrated with finding the best system/solution for organizing your tissue paper collection. You are probably wondering, "Where do I STORE it all?"
Here are a few simple and effective storage solutions for keeping your paper collection neat, tidy and organized:
Use a file sorter to keep tissue at your fingertips.
Remember that accordion file you have stuffed in the back of the closet?
Put it to good use by storing your paper collection in it!
Don't forget that wasted space behind the door.
Use an over-the-door shoe organizer or towel rack to hang your collection.
Pizza boxes make an excellent home for tissue paper. It helps you keep a tight limit on how much you can keep.
Sort and store your tissue paper by colors and prints.
Use tiered pant hangers and trouser hangers to store tissue and other paper that can be used for wrapping gifts.
What is your favorite way to store and organized your collection of tissue paper?